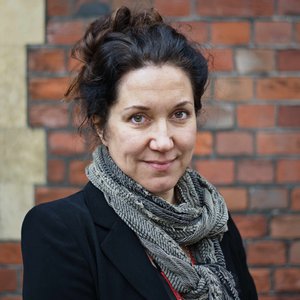 Former Project Manager and Visiting Research Fellow
Carina researches interaction and experience design with a focus on the infrastructures of interactive systems. She holds a PhD in Media and Cultural Studies from the University of Sussex, for which she undertook ethnographies of Punchdrunk's interactive work in theatre and blended media, including their making cultures, live and digital audiences, and developed a methodology for critical analysis of interactive systems.
She previously worked at King's Digital Lab as project manager, collaborating with her colleagues to develop processes for putting 100 legacy digital humanities projects under contractual agreement and secure maintenance or responsible archiving. She is Co-Investigator on the AHRC-funded project Digital Ghost Hunt with King's Digital Lab and the University of Sussex, producing an augmented reality project in collaboration with PI Mary Krell, Co-I Elliott Hall, and key partner Tom Bowtell at KIT Theatre. She is also Creative Director at interaction design consultancy the Nimbus Group, where she designed and produced interactive art projects 0-1, The Nimbus, and Giddy.
Carina's research interests are focused on digital entropy and infrastructures for interaction design. She teaches a range of subjects across theory and practice, including communication and interaction design, critical analysis, and digital cultures. She has organised a conference and academic workshops on interaction design and collaborative research, as well as a wide range of public art events.